The Cooler Water Cooler
At the touch of a button, choose from chilled, filtered still or sparkling water & delicious better-for-you beverages.
It's Easy to give it a Try!
Turn Water Into Wonder
Simply:
First – Choose from one of the 33+ flavors. Shop Now
Second – Decide on sparkling or still.
Third – Enjoy your healthy crafted beverage knowing that you've helped the environment.
Feel the Love
Listen to what our customers have to say.
Joe, Somar Capital – "The Lavít unit is great…so easy to use! I love the fact that there are so many great flavors, and that each has very little sugar and calories. The fact that the capsules are recyclable and good for the environment is another huge benefit!"
Donna, Ascensia Care Center – "The unit is user-friendly and fast. I like that there's no waiting at the cooler in an office of 150-200 people. I also like that it's clean, with no mess to clean up after a beverage is dispensed."
Jason, Kestler Financial Group – "After our Lavít cooler was installed, I quickly became the office hero. Our office is comprised of health conscious, high energy professionals and from the moment the dispenser was turned on it was obvious we made the right choice."
Andrea, Citco Funds – "Go ahead, live, laugh and love Lavít!"
Good for You, Good for Our Planet
The first 100% truly recyclable capsule. By living in a smarter way, we can use less resources and create savings that are used to do some good.
Eliminates plastic water bottles, No trucking or warehousing of heavy liquids minimizing carbon footprint
The Lavit capsule uses less material than the average plastic bottle cap.
In just 12 square inches one Lavit stand contains 144 12oz beverages.
Lavit capsules use 1/7th the aluminum of a 12oz can.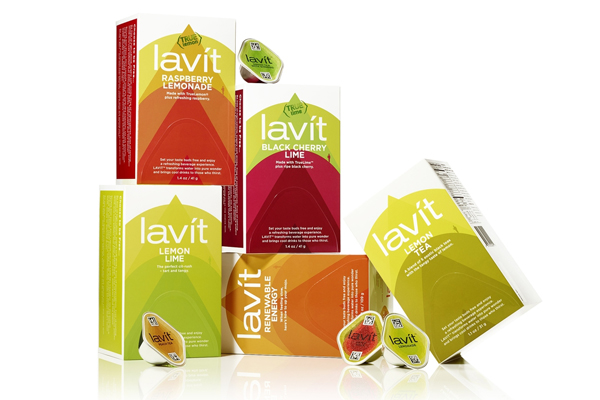 The Flavors – Refreshingly Personal
33 and counting…
Originals – A Flavor for Every Taste
Supernaturals – Lightly Sweetened with Stevia
Arizona – The #1 Iced Tea Brand!
Unsweetened Supernaturals – A Hint of flavor for still or sparkling water
Juice Press – Unsweetened & intriguingly delicious!